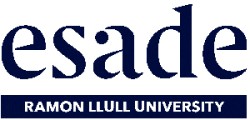 ESADE Business School Barcelona, Spain
URL:
www.esade.edu
Address:
ESADE Business School
c/ Pujades 48
08005 Barcelona
Country:
Spain
Studying at the ESADE Business School
Esade is a global institution structured as a Business School, a Law School, and an Executive Education area. It is located in Barcelona and Madrid. The Barcelona-Sant Cugat campus, where the Masters in Management Programmes take place, is a state-of-the-art campus; in addition to classrooms and other areas for academic activities, the campus is also home to Esade Creapolis, an innovation park spanning 17,520 m² and where the university and business communities can come together.
Your Contact at ESADE Business School
Katrin Liesenberg is Associate Director, Recruitment & Admissions - MBA & MSc programs at ESADE Business & Law School. Feel free to send her a message if you have questions on ESADE's graduate programs. Just click on the REQUEST INFO Button.
Request Info
The Location
ESADE is located in Barcelona and Madrid.
Financial Aid
Esade offers several Financial Aid options available for candidates, including Esade Merit Scholarships, Esade Need-based Scholarships, Partnership Scholarships and several loan schemes.
Ranking
Esade is consistently ranked as a top 10 institution in Europe by the main rankings. Our Masters in Management Programmes have also been distinguished among the best in the world:
#4 Master in International Management Programme, QS 2020
#4 Master in Marketing Management Programme, QS 2020
Accreditation
Esade has been accredited by AMBA since 1999, EQUIS since 2003 and AACSB since 2001.
Why to study here
5 Reasons to Choose the Esade Masters in Management
1. Become an expert: Focus by choosing your programme, specialization and track.
2. Become a professional: Get ready for the real world with business challenges and hands-on methodology.
3. Experience the world: Diverse classmates, international internships and study tours abroad.
4. Maximise your talents: Push yourself and learn alongside the best.
5. Change your life: Lay the foundations for future success.